want to exercise but also wearing a mask What should I do?
Page 1 of 1
---
want to exercise but also wearing a mask What should I do?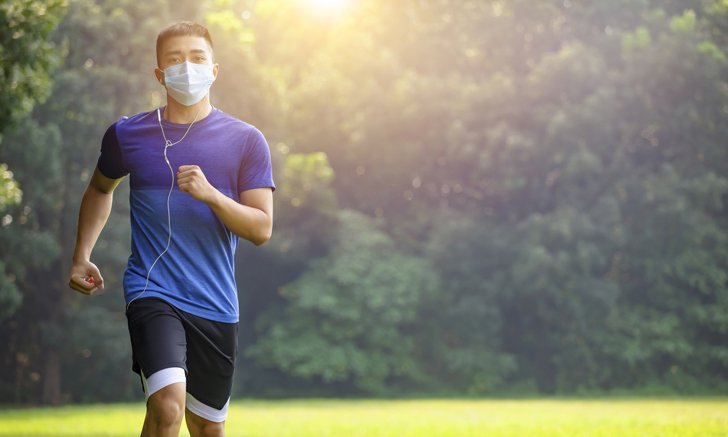 Wearing a Mask in Outdoor Exercise This is something that should be done to reduce the risk of contracting COVID-19 from others and to show social responsibility.
Choose the right mask
Should choose a cloth mask made of a material that breathes moisture well. and should be no more than 2 layers thick. As for the medical masks, which are paper May not be suitable for exercise Because the sweat that comes out makes the mask wet. and affect breathing during exercise
You should also have a spare mask to replace. If the mask that is used starts to become damp or wet from the sweat that flows out. and for good hygiene Hands should be cleaned with alcohol gel. before changing a new hygienic mask every time.
Consult your doctor before exercising.
If planning to exercise in a location that requires a mask. But health is not perfect. Should consult a doctor first. because it may affect physical performance or the ability to breathe especially those with heart and lung problems The doctor will be able to give advice appropriate to our symptoms and health history.
Start with light-moderate exercise.
If you are not a person who exercises regularly In addition to warming up is something that should be important. Instead, focus on low to moderate intensity exercise first.
When you get used to wearing a mask May increase the intensity of exercise harder. But should start from a short time for the body to adjust. and gradually increase the duration
Focus on durability over speed
In the case of cardio exercises to strengthen the heart muscle and lungs. The focus should be on endurance or endurance of exercise. rather than focusing on speed such as jogging to run at a consistent pace and medium speed but running for a longer period of time Instead of focusing on speed
check heart rate
If wearing a smartwatch during exercise Check your heart rate as well. If your heart rate is higher than normal This may be a warning sign that the intensity level of exercise should be reduced. or reduce the amount of time to exercise It may also be necessary to increase the time during the break for longer.
observe one's own body
Wearing a mask while working out can put stress on your body, so keep an eye out for any abnormalities in your body.
If you have difficulty breathing, dizziness, lightheadedness, chest pain, stop exercising immediately. and find a place where the mask can be removed to receive oxygen into the body and make the body more relaxed
Our website::
joker
Posts:

175

Joined:

Mon Sep 28, 2020 5:03 am
---
---
Page 1 of 1