Put it all in! "Thai girl swatter" can't resist, losing 0-3
Page 1 of 1
---
Put it all in! "Thai girl swatter" can't resist, losing 0-3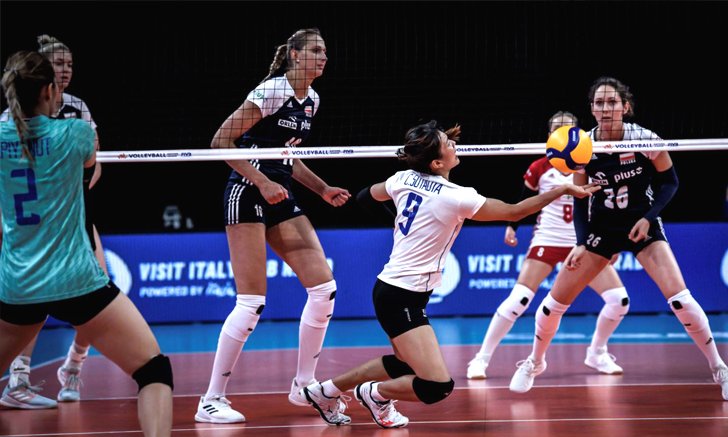 Thai girls team can't resist losing Poland 0-3 set Nations League 2021 Volleyball Women's Battle, Bubble type, Week 4
Nations League Women's
XO
Volleyball Tournament 2021 " Bubble Week 4 Match 11 in Rimini, Italy, Sunday night, June 13, 2021, the Thai national team, the last match, defeated Germany 3- 1 set on the field against the Poland national team By the statistics that have met in the last 5 times, Thailand won 1 time and Poland won 4 times.
In the first set, both teams scored very close. Poland led 8-7 before then Poland. Still keeping the distance of the points well, leading 16-14, then Thailand began to speed up the form until the points were equal at 22-22, but in the end, it was Poland who could definitely play than win before 25-23, leading up to 1- 0 sets
The second set Poland started hot, leading 8-4 and leading 16-10. Poland, the more you play, the more confident. Pitchfork flew away as far as 23-13 before winning again 25-15, allowing Poland to escape Thailand in a 2-0 set.
The 3rd set, Poland still has a terrible attack and the defensive game is tough, leading Thailand 8-3 before then Thailand pushing up to 11-13 before Poland moving away to 20-15 and closing the set to win 25-20.
At the end of the match, the Polish national team won the Thai national team 3-0, sets 25-23, 25-15 and 25-20.
for the next program The Thai women's national volleyball team will meet Brazil on Monday night, June 14 at 00.30.
Posts:

177

Joined:

Thu Dec 17, 2020 10:17 am
---
---
Page 1 of 1